Fillets of mackerels in sunflower oil
Mackerel is an oily fish, with a delicious white meat; as it is rich in omega 3 fatty acids, it helps lower cholesterol and triglyceride levels in the blood, which contributes to reduce the risk of heart and blood vessel diseases.
Add to Wishlist
Fillets of mackerels in sunflower oil.
Ingredientes
Mackerels, sunflower oil y salt.
Información nutricional (por 100 g)
Valor energético 819 kJ / 196 kcal
Grasas 11,9 g
de las cuales saturadas 1,8 g
Hidratos de carbono 2 g
de los cuales azúcares 2 g
Proteínas 24,5 g
Sal 1 g
Tabla de alérgenos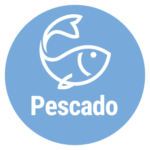 This is undoubtedly the most traditional preserve of them all. Their characteristic taste and quality as a source of nourishment come from the high fat content of the fish. The higher the amount of polyunsaturated fats the better the taste. Canned sardines are a complete and healthy food due to the high content of proteins, omega-3 fatty acids, calcium and phosphorus.

GALICA SMALL SARDINES IN OLIVE OIL is a product which is ideal as part of a mediterranean diet.